Fluoresynth
VST/AU Software Synthesizer Virtual Instrument Synth Plug-in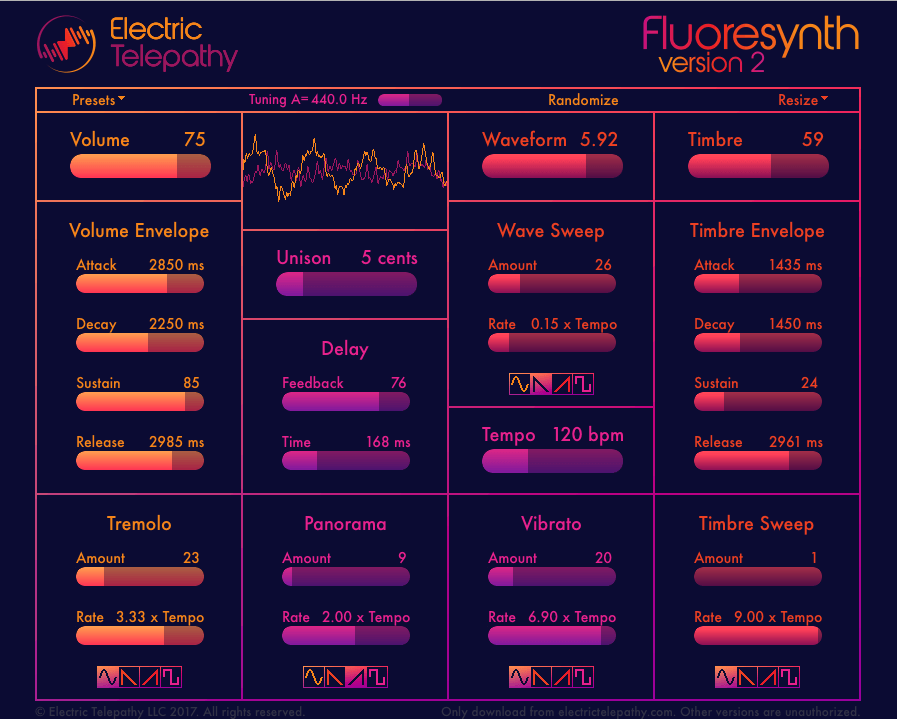 Features
Variety of harmonic and inharmonic sounds
Easy to understand – controls labeled with musical terms, not technical language
Optimized Performance – layer multiple Fluoresynths at once
Built-in oscilloscope shows you the sound wave in real time
Velocity sensitive – harder struck notes sound louder and brighter
Future updates to Fluoresynth are free after initial purchase
VST and AU plug-in formats compatible with most Digital Audio Workstation software
Runs on Windows 7 or later and Mac OSX 10.7 through 10.14
Description
---
"It's intuitively laid out and fun to play around with"
---
How does Fluoresynth work?
Fluoresynth (sounds like "fluorescent")  generates a fundamental tone and 12 overtones. The relationship between the fundamental and its overtones determines the sound's brightness and warmth.

Read more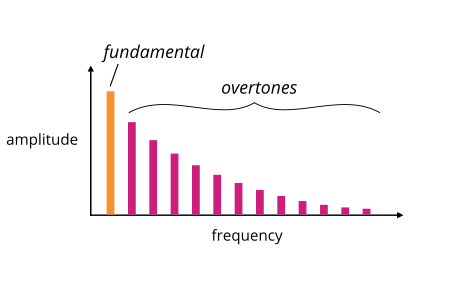 Mellow or Bright Timbre
Fluoresynth sounds mellower when the overtones are much quieter than the fundamental tone.
Turning up the overtones' amplitude brightens Fluoresynth's timbre.
The Timbre slider controls the overtones' amplitude.

---
---
Warm or Metallic Waveform
The waveform shape determines the distance between each overtone. You can control the waveform shape with the Waveform slider.

Dense overtones produce warmer sounds.
Spaced overtones sound metallic.
---
"Even if you're already familiar with synthesizer terminology and architecture, Fluoresynth is a great addition to the toolbox. It is simple and quick to program and almost everything you'd want to tweak is available on one screen."
---
Make Harmonic or Inharmonic Sounds
Fluoresynth can make both harmonic and inharmonic sounds. This feature sets Fluoresynth apart from other synthesizers only capable of harmonic sounds, like subtractive synthesizers.
Setting the Waveform control to a whole number results in a harmonic sound. The frequencies of the overtones become integer multiples of the fundamental tone's frequency.
Setting the Waveform control to a fractional number results in an inharmonic sound. The frequencies of the overtones depart from integer multiples of the fundamental frequency.
Inharmonic sounds are useful for creating unpitched tones, like in drums, percussion, or sound effects.
Dynamic Sounds
Two envelopes control the Volume and Timbre amounts over the lifetime of each note.
Five low-frequency oscillators control periodic Volume, Timbre, and Waveform changes, plus Vibrato and Stereo Panorama effects. You can synchronize all five low-frequency oscillators to the tempo of your song.
All controls can be mapped to MIDI CC knobs or DAW automation clips for ultimate customization.
---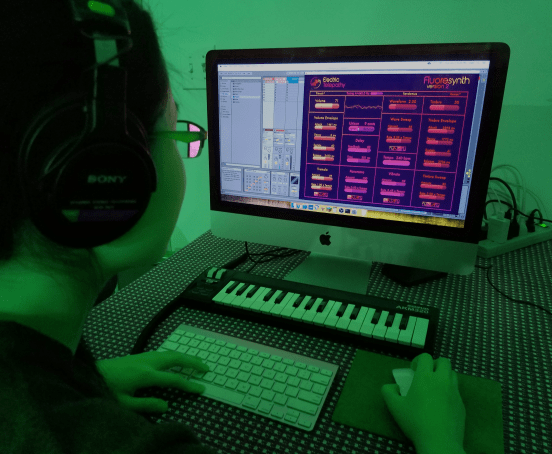 ---
You Get All New Releases Free
When we update Fluoresynth you get the new version for free!
Current Version: 2.0 – Release Date: December 9, 2017
Version history
Version 2.0 – Release Date: December 9, 2017 – Fractional waveforms for inharmonic synthesis, wave sweep LFO, unison stereo detune, built-in delay, fine tuning, variety of LFO wave shapes, presets menu, randomizer button, window resize
Version 1.0 – Release Date: April 30, 2017 – Volume controls (Master, Envelope, LFO), Timbre controls (Master, Envelope, LFO, Waveform), Vibrato, Panorama, Tempo Sync, Oscilloscope
Make better music faster
Musicians want to spend their time making music, not learning how to use a particular synth.
Place your mouse over the sliders to see how each one changes Fluoresynth's sound.
---
System Requirements
VST and AU plug-in formats compatible with most Digital Audio Workstation software
Runs on Windows 7 or later and Mac OSX 10.7 through 10.14
Start Creating with Fluoresynth Today
No other synthesizer does what Fluoresynth can do. You will be inspired immediately.
SRP: $299
$179.00